SPRING SPORTS PARENTS MEETING - Tuesday, March 7th at 6:00pm in the Richfield Springs HS Cafeteria.
SPORTS UPDATE: Girls Varsity falls to CV-S 58-26. Thank you for a great season ladies!!
SPORTS UPDATE: Final - Morris over RSO 68-40. Thank you for a great season gentlemen!!
SPORTS UPDATE: end of 3rd - Morris leads RSO 46-28
SPORTS UPDATE: At the half, Morris leads RSO 29-19
SPORTS UPDATE: At the end of the first quarter, Morris leads RSO 16-14
SPORTS UPDATE: Richfield Springs Lady Indians win 57-42! WOOT!!!
SPORTS UPDATE: At the end of the 3rd Quarter, Lady Indians lead 43-32
SPORTS UPDATE: at the half Richfield Lady Indians lead WAJ 33 to 17!
GAME TIME CHANGE: The girls basketball game has been rescheduled to tomorrow, January 23, at 6 o'clock. IF YOU ALREADY PURCHASED TICKETS, THEY ARE VALID FOR TOMORROW'S GAME! Use the following link or the attached QR code to purchase. Cost per person is $6.25. *children 10 and under are FREE. Tickets may also be purchased at the door:
https://gofan.co/app/events/912989?schoolId=NYSPHSAAIV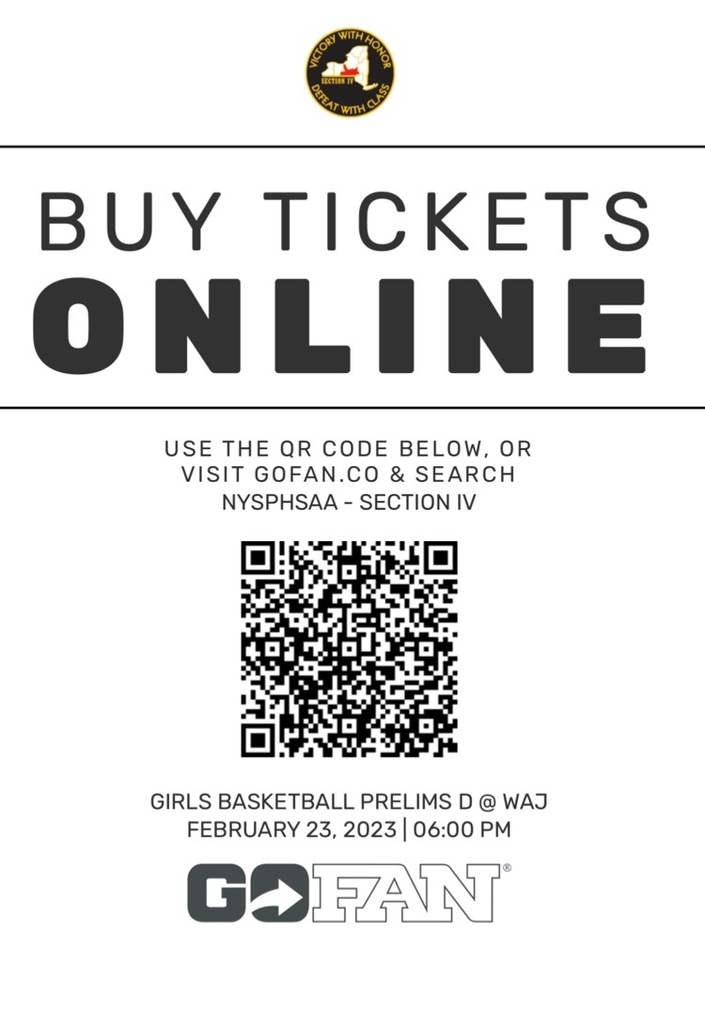 SPORTS UPDATE: Due to the weather, Section IV has canceled all girls basketball games today, including Richfield Springs game at Windham. We will post the rescheduled date and time later today.
ALMOST GAME TIME! RSO vs Edmeston - 6:00 tip-off. Be prepared to present your digital tickets at the door. We will have people available to assist if you still need to purchase tickets.
GAME TIME CHANGE: Due to impending inclement weather, tomorrow's Girls Varsity Basketball game has been CHANGED to a 1:00pm start. IF YOU ALREADY PURCHASED TICKETS, THEY ARE VALID FOR TOMORROW'S GAME! Use the following link or the attached QR code to purchase. Cost per person is $6.25. *children 10 and under are FREE. Tickets may also be purchased at the door:
https://gofan.co/app/events/912989?schoolId=NYSPHSAAIV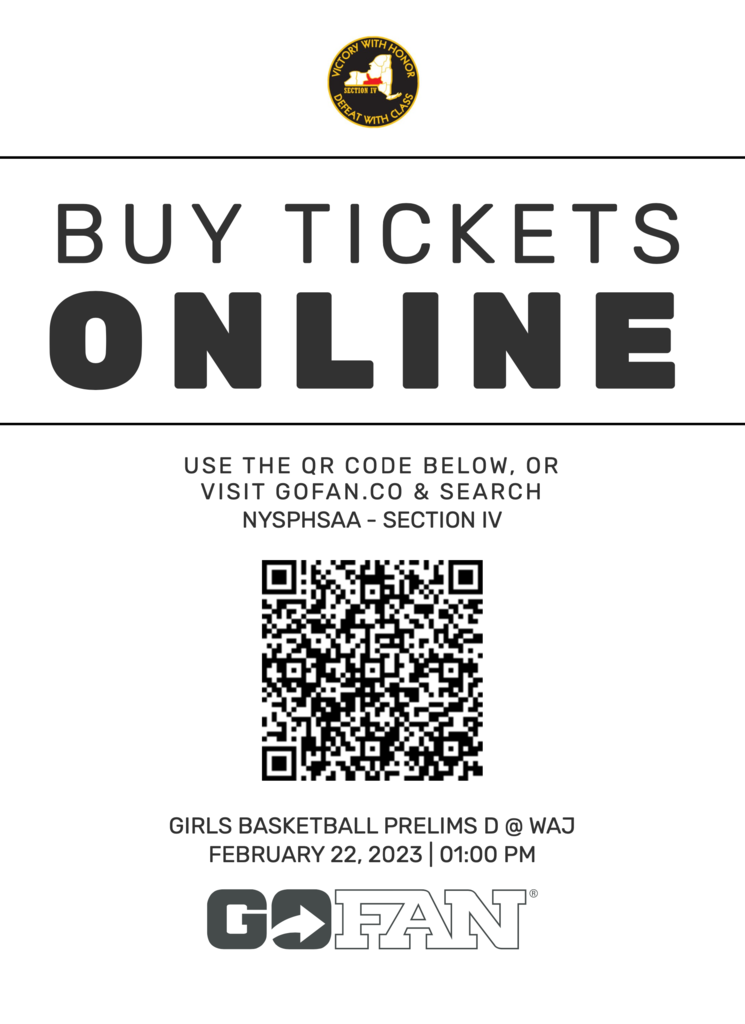 SPORTS UPDATE: Tickets for the Girls Varsity game at Windham-Ashland-Jewett on Wednesday are now on sale. Use the following link or the attached QR code to purchase. Cost per person is $6.25. *children 10 and under are FREE. Tickets may also be purchased at the door:
https://gofan.co/app/events/912989?schoolId=NYSPHSAAIV
SPORTS UPDATE: Tickets for Tuesday's Boys Varsity Sectional game vs Edmeston are now on sale. Use the following link or the attached QR code to purchase. Cost per person is $6.25. *children 10 and under are FREE. Tickets may also be purchased at the door:
https://gofan.co/app/events/912951?schoolId=NYSPHSAAIV